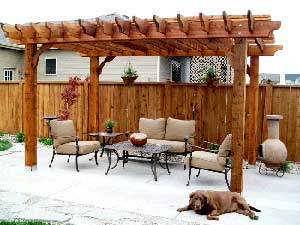 New Visions designs and manufactures unique and classic garden structures created with the highest standards of craftsmanship.
A full complement of garden structures are designed and custom crafted on your location or offsite, including arbors, trellises, pergolas and pergola kits and garden arches.
A pergola is an overhead structure used to make the outdoors more inviting, to extend livable space, to create a shady retreat, and serve as a major landscaping element. They were known in ancient Egypt, Greece and Rome. Pergolas were also a common feature of early Renaissance gardens in Italy and subsequently throughout Europe.
Pergolas add grace, style, comfort and architectural character to your home. We help you create an environment that reflects your own personality and style. A pergola can change the way you think about your home. You may find yourself entertaining more often under your new pergola. In many cases the pergola becomes the favorite part of the house.
Whether your need is for a garden privacy screen, a lattice fence, an outdoor privacy screen or a rooftop pergola our designs for outdoor living structures are unmatched in quality and style.
Our pergolas are created to meet your individual space requirements. We can accommodate a large variety of custom sizes. The photographs in our gallery show just a few examples of what we have built. Choose from one of our existing designs or let us design a pergola to suit your specific needs. You can buy one of our pre-designed models or we can design a custom model to suit your specific needs and taste. Each custom pergola is quoted per individual specifications.
Do you need shade over your patio deck , pool, spa, barbecue, or outdoor kitchen? Garden Arbors are an elegant and affordable way to enjoy your outdoor additions year-round. Florida can reach 100 degree weather in the Summer. Even Spring can feel hot. Get out of the sun and enjoy your backyard by building a garden arbor that will keep you cool. With a variety of materials to choose from, including cedar and redwood , you can have an arbor designed to fit in with any backyard design.